Car Batteries
24/7 car battery delivery and installation! We will get their FAST!
Battery gone flat? Or just unreliable? A brand new, affordable battery delivered straight to you is just a freecall away from Perth's Mobile Mechanic.
No matter what time of the day or night, call 1800 888 990 and our qualified mechanics will deliver and install a quality new battery across the Perth metro area.
Fast car battery delivery!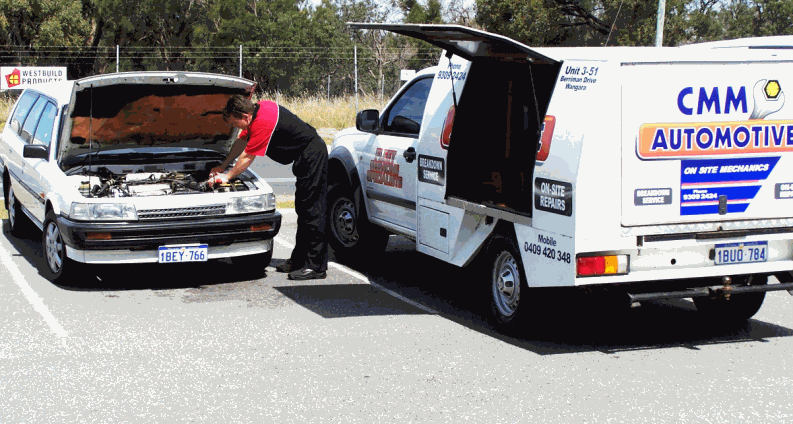 Only The Best Car Batteries At Perth's Best Prices
24/7 delivery within an hour of calling by your qualified Perth Mobile Mechanic
We have an extremely competitive pricing structure, and our prices are better than many retail outlets. Furthermore, we only use quality brands which grant our customers optimum value for money and the longest car battery life possible.
Which Car Battery Do You Require
The most convenient way to find out what car battery you need is to free-call 1800 888 990 and speak with your local Perth Mobile Mechanic. We can provide you with an obligation free quote on the spot and provide you with the proper advice and alternatives. We have a large battery stock to suit a large range of vehicles.
So if your car won't start, or your battery is faulty, call CMM Automotive Perth Mobile Mechanics for a fast, convenient and cost-effective service.
Are You Worried About the Condition Of Your New Battery
Unlike other battery installers, here at CMM Automotive our batteries are tested weekly and rotated with newer stock monthly, this gives the customer total confidence that they will be getting a product that will be with them for the full lifespan off the battery and not just be given  battery that has been sitting on the shelf for six months.
Car Battery Prices
Like cars, batteries come in many different brands, models and sizes. Each of these has a different price-tag which is why we don't specify prices on our site. If you would like a quote or price on the right battery for you, give us a call on 1800 888 990 for more information today
So in order to find what battery is right for you give us a Call on 1800 888 990 for more information today.
*Car battery costs will vary depending upon your vehicle and other factors.
A personal note from your local Perth Mobile Mechanic
The importance of having your battery checked on a regular basis.
Owning CMM Automotive, I have found that most people think that their battery (after a bad experience) just all off a sudden gives up on them. However, at least 95% of the time, we have found that customers batteries were showing signs off not being able to do the job required 6 months before they fail.  This is why at CMM Automotive, as part of every vehicle service, we conduct a series off tests and checks to make sure your battery will be up to the task for the next 6 months. For instance, we can test a battery and see that it is working at 50%. Now for the rest of this week, that may be enough to start the car and control all the electrics, but this battery will most definitely fail 8 weeks from now. And seeing how our modern day vehicles are so dependant on their electrics, it can be concluded that a simple check of a customers battery can stop them becoming stranded roadside, where it can become costly and inconvenient.
Please click below on your suburb for more information.