CMM Automotive Mobile Mechanic now service in Carramar.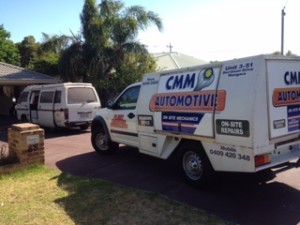 Below is a link to Google Maps with directions from Carramar to our workshop.
http://maps.google.com.au/maps?rls=com.microsoft:en-au&oe=UTF-8&startIndex=&startPage=1&redir_esc=&um=1&ie=UTF-8&gl=au&daddr=Carramar+WA&saddr=Wangara+WA&panel=1&f=d&fb=1&dirflg=d&geocode=KZ9SMK6drTIqMVBT3zW18AQF;KeWFacjwU80rMaAl3zW18AQF&sa=X&ei=lJodUav5L6uhiAfapoGgAQ&ved=0CDEQ-A8wAA
Carramar is approximately 14 mins or 11.5km from the workshop.
In Carramar, we provide breakdown assistance and mobile mechanical services. We are licensed technicians and fully equipped to undertake any car servicing or repairs you may require. This includes battery changes, air conditioning and logbook servicing, to major engine repairs.
Many people panic when their vehicle breaks down roadside. It might be your first day at work, a job interview or on your way to a first date etc. Don't panic, call us at CMM Automotive on 1800 888 990, we are familiar with your area and will have you on the road in no time. For your benefit, we can provide a mechanical certificate as proof of a break down for work. Our breakdown assistance in Carramar is fast, efficient and friendly. We will try our upmost to get your vehicle roadworthy to save you the cost of a tow truck.
In addition to our break down assistance, many of our clients prefer to have their vehicles serviced at home for convenience. Our staff are fully qualified mobile technicians and will provide you with a receipt. If it is not possible to have your vehicle serviced at home in Carramar, you can bring it to our fully equipped workshop. If this causes inconvenience or transportation issues for work etc, we provide a complementary pick up and drop off service. We can pick up your vehicle and then drop you off at work etc. At CMM Automotive we cater for as many clients needs as possible, with many services like our pick up and drop off service being complementary. With both major and minor services, we provide your vehicle with a thorough clean leaving your vehicle with that new car smell.
Call NOW on 1800 888 990 for a fast, efficient and friendly service.