Vehicle Air Conditioning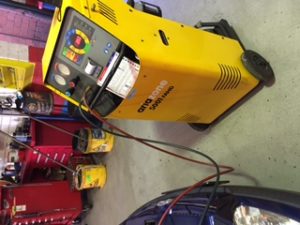 CMM Automotive specialise in car air conditioning systems. We are the mechanics in Perth that locals trust. Whether you require an inspection, service or repair work we have you covered. All our mechanics are qualified air conditioning technicians and we service a variety of vehicles including cars, trucks and vans.
It is important to maintain your car air conditioning system especially throughout the hot summer months. If you notice an old musty smell when you turn your air conditioning on, it is likely that it needs a clean and service. This is because fungi and bacteria can grow in car air conditioning systems and can cause allergic reactions such as hay fever, skin irritations and itchy eyes.
Air Conditioning Servicing
Over time, air conditioning systems can become less effective for a number of reasons. These include insufficient use, worn out seals and minor leaks. To maintain optimum efficiency it is recommended that you have your air conditioning serviced approximately every 12 months. This helps reduce the natural leakage that occurs in most air conditioning systems, which usually results in roughly 15% to 20% cooling efficiency over a 12-month period. To have your air conditioning, serviced free call 1800 888 990 today.
In addition, a full inspection of your air conditioning system will be included in the service. This includes both components and temperature testing inside and outside the vehicle.  If any fault or problems are found, you will be notified before any repairs are carried out. Once your consent is given repairs will begin immediately.
Air Conditioning Repairs
CMM Automotive carry out all air conditioning repairs in the workshop, as many specialist tools can be required.  However our free drop off and pick up service reduces any inconvenience this may cause. Our prices are the most competitive on the market. Free-call 1800 888 990 today.
A list of the full range of air conditioning services provided by CMM Automotive are illustrated below:
Vehicle Air Conditioning Services
Vehicle air conditioning repairs
Detect and repair refrigerant gas leaks
Re-gas and service existing auto air conditioners.
Repair and replace hoses
Recharging car air con systems
Treatment for bacteria
Cleaning your air conditioning system